Last fall, Vans officially launched its Wayvee model, which was introduced with Dime.
The partnership did the trick and brought attention towards this new model, which had classic throwback traits similar to the 90's and 00's model, but featured Vans' robust line of technical additions.
Vans calls it the "latest high-performance skate shoe created through direct feedback from skateboarders".

Ratings


| | |
| --- | --- |
| Supportive: | |
| Breathability | |
| Look/Style: | |
| Durability | |
| Boardfeel: | |
| Grippy: | |
| Comfort | |
| Pricing: | |
| | |
| --- | --- |
| Sizing | True To Size |
| Good for: | Tech & Everyday wear |
| Break-in time: | Not immediately |
| Shoe Shape: | Narrow/wide. Pointier than most Vans |
Pro's and Con's


+ Control combined with Comfort
- Takes some time to break in

+

Skate bigger obstacles due to pro cush insole
- Very minor durability flaws
+ Advanced Design


-

+ Extremely good stability


-


Materials & durability 
The Wayvee has good durability, however it's not perfect. The heel collar is an example of this. Even though the material is very comfortable, the collar is prone to shredding from the griptape. This does not effect the shoe's performance, but it can make the shoe look a bit weary.

Let's look at some positives now, starting off with the materials. Vans used high quality materials that perform very good. This causes the shoe to have a long lifespan and resist griptape abuse well.
 Sole
The sole is quite thick, especially in the toe area. It helps to protect the toe material from griptape contact and provides great flick. You will have high flexibility with an advanced cushioning feeling. In our opinion, a very good sole!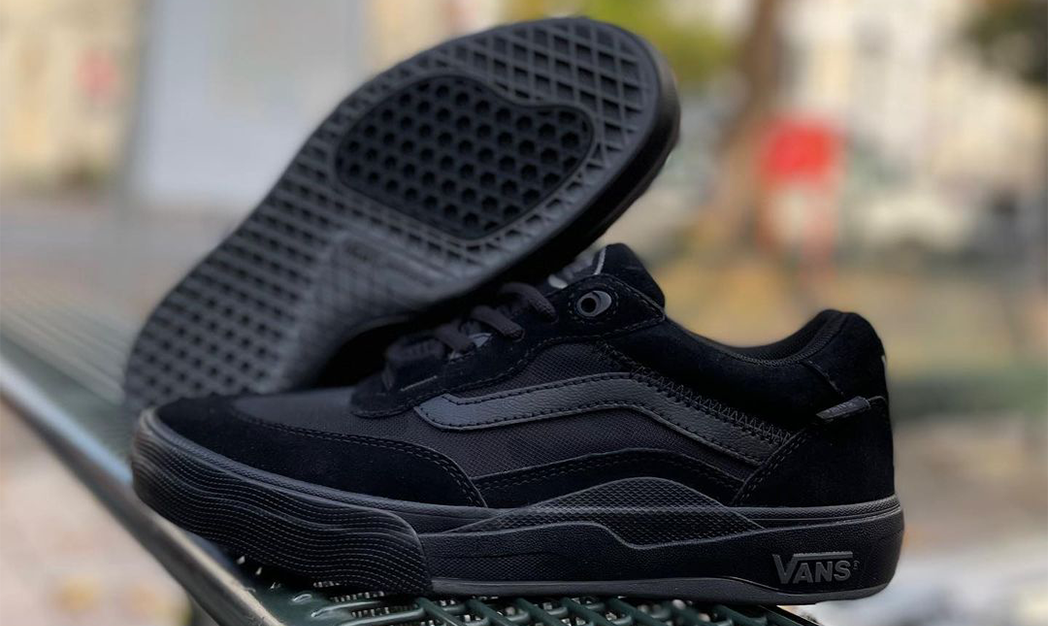 Boardfeel & grip 

The midfoot and heel area of this shoe seem very stiff, but the forefoot area is flexible. This creates a slight imbalance that could take some time to adjust to. However, once the cupsole construction reaches its full flexibility, the sole in the forefoot adapts extremely well to the concave of the board. This causes the surface of the sole to touch more griptape, which results in good grip and boardfeel while maintaining a nice level of balance and stability.
Comfort

Locked-In Fit was used for the Wayvee and it means the shoe will have a consistent fit during its lifetime. Along with a padded tongue and heel area, you get a very comfortable feeling. The midfoot also has excellent breathability.
With a flexible forefoot area, the stability is incredible. Since your sidewalls don't get too flexible and lose their shape, and shoe's stability will maintain its full potential for most, if not all of its lifetime.
Conclusion
The Wayvee is one of, if not the best Vans shoe for technical skating. It features good stability and comfort, but might take some time to break in. The sole is also very good and the shoe itself is an eyecatcher!