BUY A SKATEBOARD AT SKATESHOP.BE
With the right skate decks you will quickly find your skate style. Be surprised by the graphics that we have and choose the right size. We have something for everyone. You'll find your favorite brand among the options at the Skateshop. Discover your style and size of skate decks below!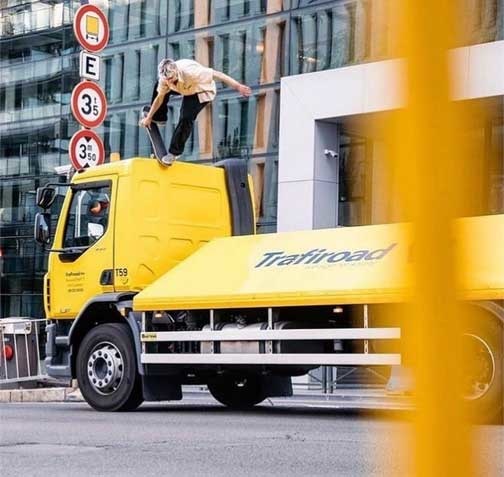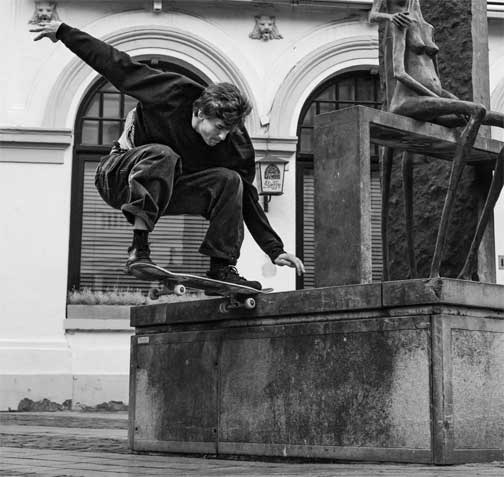 WHAT PARTS ARE NECESSARY TOO PUT TOGETHER A SKATEBOARD?
Extra toe te voegen
FIND THE RIGHT SKATEBOARD SIZE
There are no set rules that govern how you choose your skateboard.
If you are a beginner this chart may help you to have an overview of what size to take.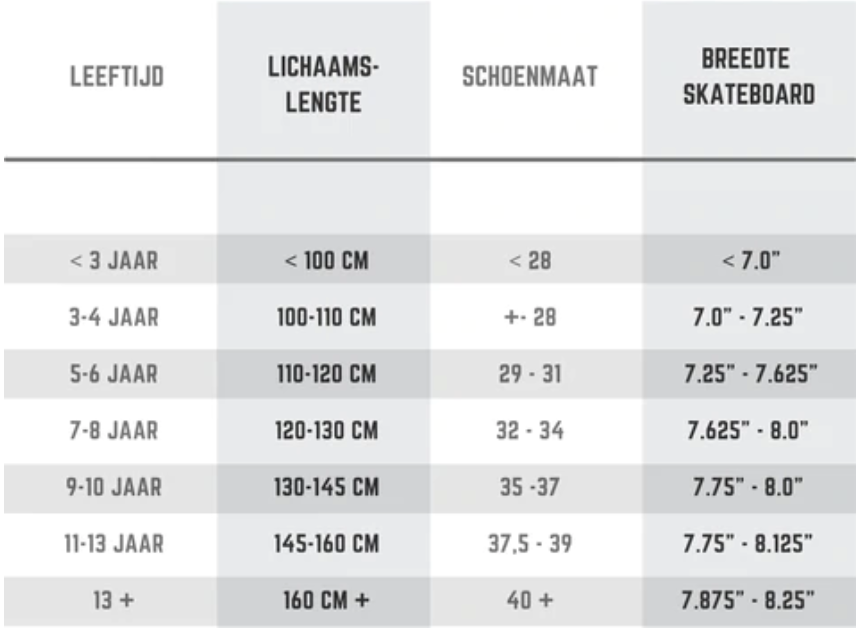 The parts that make up skateboards
Skateboard Deck
The deck is the part of your skateboard you stand on. Skateboard decks are usually 7 layers of maple wood, glued together and pressed into a shape. The shape allows you to identify the front and back of your skateboard. There are many different shapes to choose from so you can buy a deck that suits your style.
Skateboard Griptape
On your skateboard is griptape. Griptape is a sandpaper-like material that is stuck to the top of your skateboard. The griptape keeps you firmly on your skateboard and prevents you from slipping. It is essential for doing your skate tricks.
Skateboard Trucks
You need 2 trucks on your skateboard. Trucks is used to turn while skating. It consists of two metal parts: Namely the hanger, where the wheels are attached and the baseplate, which connects to deck.
Skateboard Wheels
Wheels are essential so you can ride your skateboard. Skateboard wheels are made of plastic urethane. There are different degrees of hardness, widths and sizes you can choose from.
Skateboard Rollementen
Without rolling elements, your wheels won't turn. There are different rolling elements, but they are more or less not much different from each other. You can choose between the best-selling rolling elements Bronson Bearings, Cortina bearings, Nothing Special and more.
Hardware
To mount the trucks on your deck, you need the right nuts and bolts. Skateboard hardware kits contain all the bolts and nuts you need for your skateboard. Suitable skate tools are available for tightening the bolts.
Best selling brands
Are you like us always looking for the best skateboard decks? Then you're at the right place at Skateshop.be. In our online skate shop we only sell the brands that we, as skaters, are satisfied with.
These are all brands of skateboard decks such as: Polar Skate Co, Nine One One, Hélas, Fucking Awesome, Hockey ... and many more tested by sponsored teamriders tested and approved.
When should I replace my skateboard deck?
A skateboard deck is made of 7 layers of pressed maple wood. Unfortunately, a skateboard deck does not last forever. Over time, your skateboard deck will simply wear out. There can be a few reasons for this:
Moisture: Skateboard deck has not been wet by the rain. When your skateboard is wet, the wood becomes softer and you have less 'pop' or jumping power. You can hear this in the dull sound when you tap the ground with your skateboard.
Razor tail: This can happen by often braking on your tail and scraping the tail on the ground. The tail then becomes very sharp. Because of a raizer tail you lose pop. If you have a raizer tail it is definitely necessary to replace your skateboard deck.
Chips: Chips are in fact cracks in your skateboard and when pieces of wood come off your skateboard. Then a replacement of the skateboard is definitely necessary.
If these reasons occur to you, we recommend that you replace your skateboard.
Why would you buy a skate decks from us?
De skatedecks zijn de kernelementen van skateboarden. Deze zorgvuldig vervaardigde houten planken vind je terug in allerlei vormen (shapes) en maten (sizes), zodat elke skateboarder kan skaten met een plank die bij zijn/haar stijl past. This includes the craziest and coolest drawings, for example het merk RipnDip. Skateboardmaten worden uitgedrukt in inches, gaande van 7.0" tot 9.25" (soms zelfs meer). Voor beginnende skateboarders is het uiteraard wat zoeken en afwegen bij het uitkiezen van een maat. Eén inch is gelijk aan 2.54 centimeter. Maten tussen 8.0" en 8.25" worden doorgaans gezien als standaardmaten, voor skateboarders met een gemiddelde schoenmaat (EU 39-42). Gratis Zwarte griptape bij aankoop van een deck! Indien je wilt dat wij jouw deck voor jou grippen, voeg dan #gripit toe als opmerking bij jouw bestelling!
Skate decks are the core elements of skateboarding. These carefully crafted wooden boards come in all shapes and sizes, so every skateboarder can skate with a board that fits his/her style. This includes the craziest and coolest drawings, for example het merk RipnDip. Skateboard sizes are expressed in inches, ranging from 7.0" to 9.25" (sometimes even more). For novice skateboarders, there is obviously some searching and weighing involved when picking a size. One inch is equal to 2.54 centimeters. Sizes between 8.0" and 8.25" are usually considered standard sizes, for skateboarders with an average shoe size (EU 39-42). Free black griptape when you buy a deck! If you want us to strip your deck for you, add #gripit as a comment to your order!