BUY A SKATEBOARD AT SKATESHOP.BE
With the right skate decks you will quickly find your skate style. Be surprised by the graphics that we have and choose the right size. We have something for everyone. You'll find your favorite brand among the options at the Skateshop.


Discover your style and size of skate decks below!
Find the right skateboard deck size at Skateshop.be.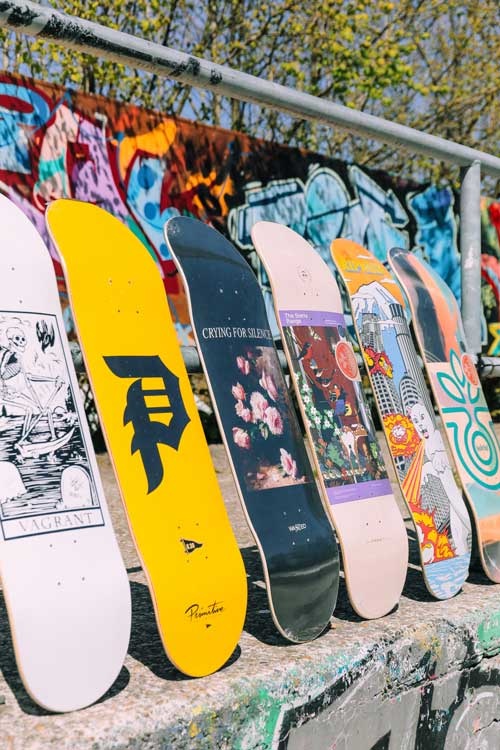 The size of a skateboard deck usually means how wide the skateboard is.
The width of a skateboard deck is always shown in inches ["]. One inch is exactly 2.54 cm. Decks range from 7.5 inches to 9 inches or wider.
To determine the size or width of the skateboard deck, the top of the deck is measured from edge to edge. There are no special skateboard decks for boys or girls, women or men or other gender identities.
Size Chart: Skateboard decks
There are no set rules that govern how you choose your skateboard.
If you are a beginner, this chart can help you get an overview of what size to take.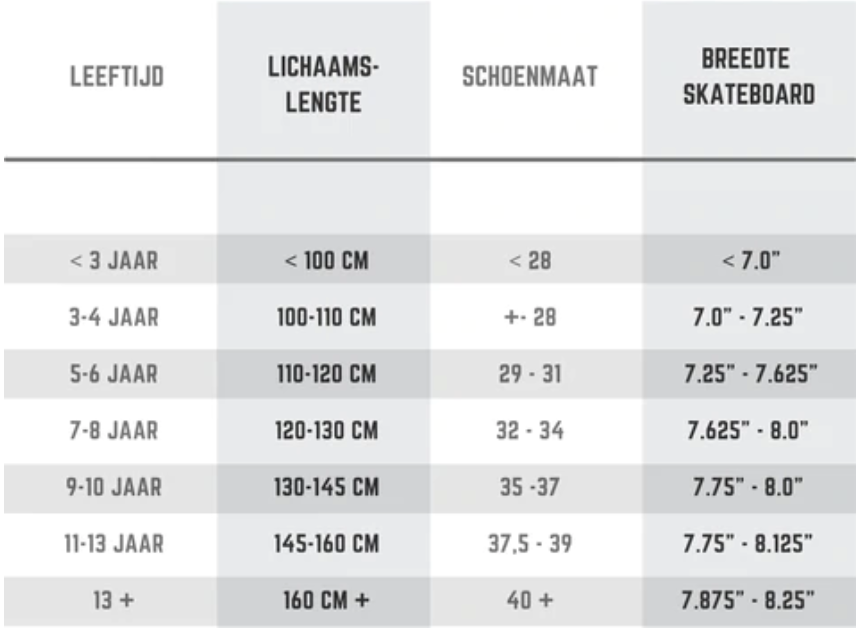 HOW THE WIDTH AND LENGTH OF THE DECK AFFECT YOUR SKATEBOARDING
NARROW/SHORT SKATEBOARD DECKS
Smaller or shorter boards are slightly lighter and easier to turn. For beginners, this is an advantage because you need less power to do your tricks.
Advantages of a narrow/short skateboard:
Good for fliptricks and flatground
Combinations and tech tricks
Suitable for children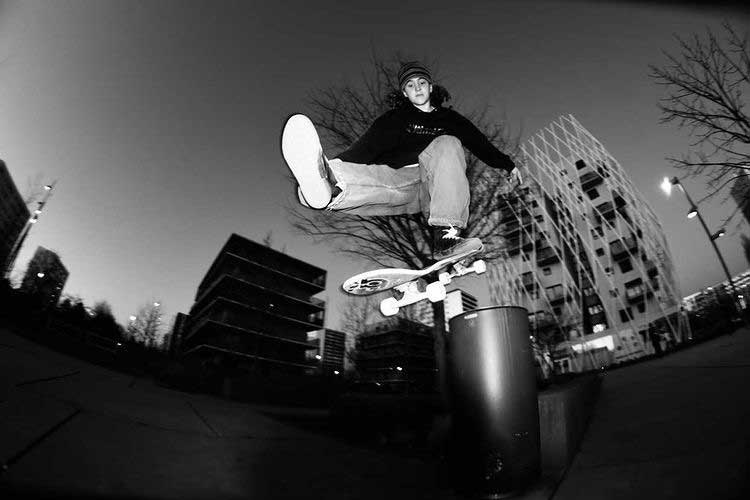 WIDE/LONG SKATEBOARD DECKS
Wide/long skateboards are usually heavier, making them harder to turn. However, because of the larger surface area, these decks offer more room for catching tricks.
Benefits of a wide/long skateboard:
Transition skating (miniramp, pool, vert)
Gaps (stairs)
Large shoe size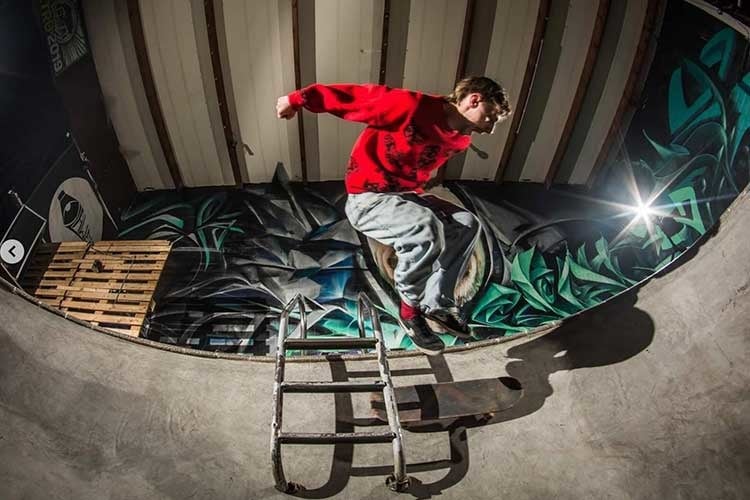 SKATEBOARD DECK STRUCTURE
FRONT AND REAR - NOSE, TAIL AND WHEELBASE
A skateboard deck can be divided into three sections: nose, tail and wheelbase. The wheelbase is the length of the distance between the inner truck holes. The wheelbase of the skateboard the length of skateboard deck.
The nose is the front part and the tail is the back part of a deck. Usually the nose is a bit longer than the tail. This allows you to clearly see where the front and back of your skateboard is. If you're not sure, you can use the image on your skateboard deck or the graphic on the top of the deck as a guide. The graphic on the skateboard deck is usually designed nose up.
Structure deck:

Nose
Tail
Width
Wheelbase
CONCAVE SKATEBOARD DECK
Concave - the curvature of your skateboard
The term "concave" will come to you when buying a skateboard deck. Concave is in fact the curvature in the skateboard.
In fact, you have 3 different curves.
Mellow concave: are decks with a slight curvature.Decks with a steep concave have a strong curvature.
Medium concave: are decks with a mix between the curvature of mellow and steep.
Steep concave: are decks with a strong curvature.
Structure concave:
What are the benefits?
Benefits of Mellow Concave
Flips slower
More stable at high speeds
Benefits of Steep Concave
Flips faster
More unstable at high speeds
Best-selling brands
Are you like us always looking for the best skateboard decks? Then you're at the right place at Skateshop.be. In our online skate shop we only sell the brands that we, as skaters, are satisfied with.
This included all brands of skateboard decks such as: Polar Skate Co, Nine One One, Hélas, Fucking Awesome, Hockey ... and much more tested by sponsored teamriders tested and approved.
When should I replace my skateboard deck?
A skateboard deck is made of 7 layers of pressed maple wood. Unfortunately, a skateboard deck does not last forever. After a while, your skateboard deck just wears out. Hier kunnen enkele redenen voor zijn:
Moisture: Skateboard deck has not been wet by the rain. When your skateboard is wet, the wood becomes softer and you have less 'pop' or jumping power. You can hear this in the dull sound when you tap the ground with your skateboard.
Razor tail: This can happen by often braking on your tail and scraping the tail on the ground. The tail then becomes very sharp. Because of a raizer tail you lose pop. If you have a raizer tail it is definitely necessary to replace your skateboard deck.
Chips: Chips are in fact cracks in your skateboard and when pieces of wood come off your skateboard. Then a replacement of the skateboard is definitely necessary.
If these reasons occur to you, we recommend that you replace your skateboard.
Why would you buy a skate decks from us?
Skate decks are the core elements of skateboarding. These carefully crafted wooden boards come in all shapes and sizes, so every skateboarder can skate with a board that fits his/her style. This includes the craziest and coolest drawings, for example the brand RipnDip. Skateboard sizes are expressed in inches, ranging from 7.0" to 9.25" (sometimes even more). For novice skateboarders, there is obviously some searching and weighing involved when picking a size. One inch is equal to 2.54 centimeters. Sizes between 8.0" and 8.25" are usually considered standard sizes, for skateboarders with an average shoe size (EU 39-42). Free black griptape when you buy a deck! If you want us to strip your deck for you, add #gripit as a comment to your order!