BUY A SKATEBOARD AT SKATESHOP.BE
With the right skate decks you will quickly find your skate style. Be surprised by the graphics that we have and choose the right size. We have something for everyone. You'll find your favorite brand among the options at the Skateshop.
Find trucks here in different widths, heights and price ranges. Among the options of the Skateshop.


Discover your style and size of trucks!
Looking for new trucks?
Are you looking for new skateboard trucks? You can find your favorite skateboard trucks at the best price at Skatehop.be. Tune the choice of your trucks, or axes, to a number of important elements for the best result. Choose your trucks according to your skateboard deck and the truck should preferably be as wide as your skateboard.
Famous Skateboard Trucks Brands
The most famous Skateboard Trucks brands bought are are Independent Trucks en Thunder Trucks. These truck companies have been proven for years. Also newer brands such as Ace Trucks offer excellent alternatives.

CONTRSTUCTION FROM A SKATEBOARD TRUCK
Skatetrucks
The construction of skate trucks is almost the same for all manufacturers. Trucks are composed of two basic elements.
Hanger: This part to which the wheels are attached
Baseplate: This part is mounted on the deck.
The two parts are connected by a bolt called the Kingpin. The Kingpin also contains the bushings, which ensure that your trucks can turn properly.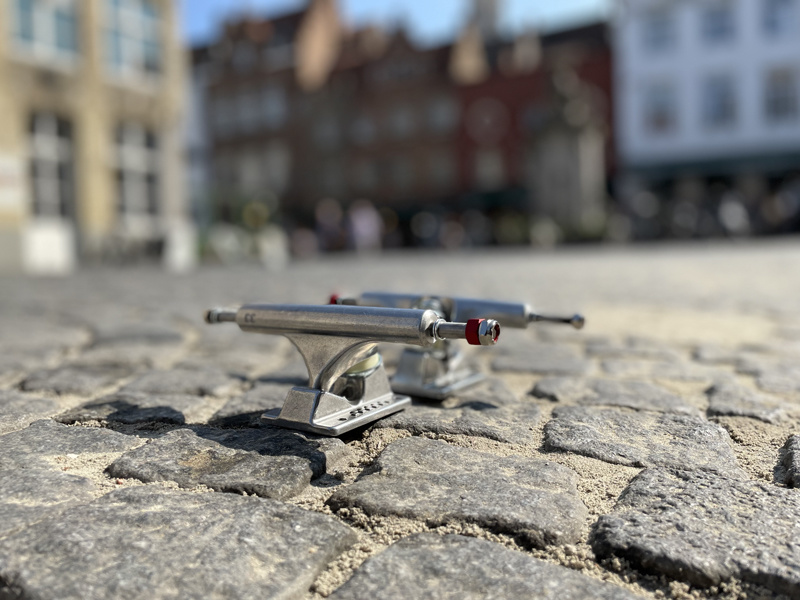 SKATEBOARD TRUCK WIDTH AND DECK WIDTH
What size do I take for my setup?
There are basically two truck widths: the Hanger width and the axle width. To find the right truck width for your deck. Following standard norms, we recommend that you choose a truck with a truck width that exactly matches your deck width. The maximum deviation between the axle and the board is 0.25″. For example: for an 8″ deck we recommend an axle width between 7.875″ and 8.125″.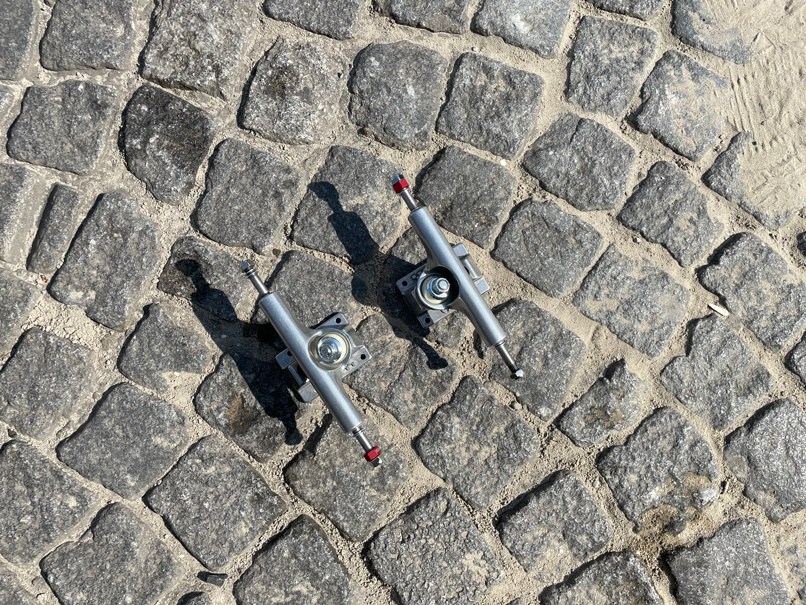 Sizeguide trucks: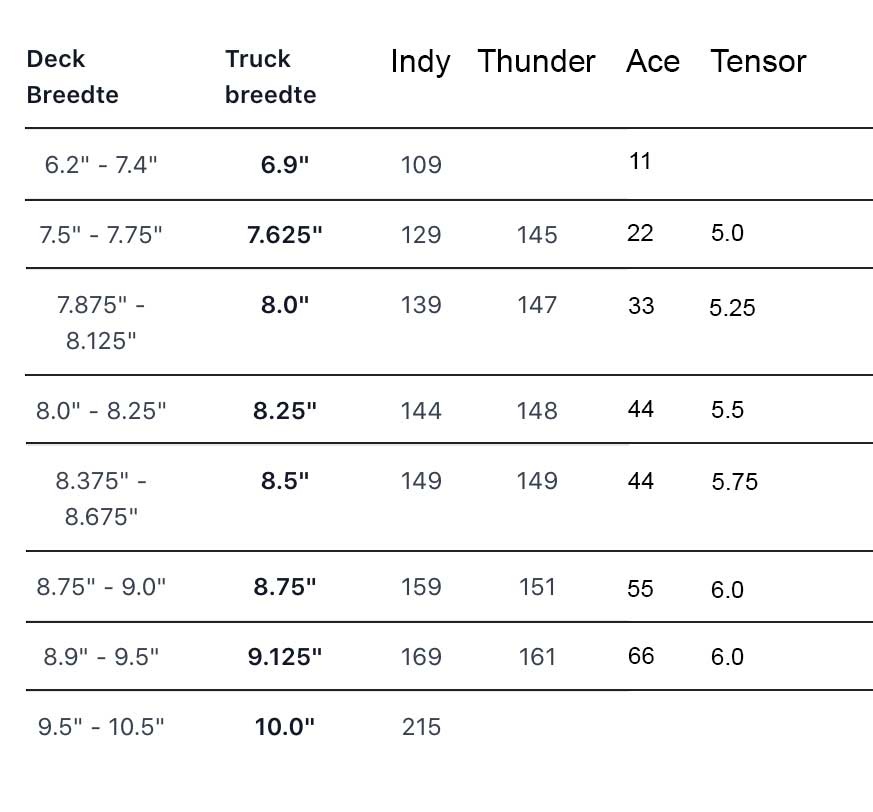 PROPERTIES OF TRUCKS
What happens if trucks don't fit on the deck?
If your trucks are much narrower than your deck, the handling and overall stability of your skateboard will become worse. You will probably have less fun riding your board and find it harder to learn tricks.
When your axles are wider than the deck, the center of gravity of the deck shifts. This can affect your overall board feel. There is a possibility that while pushing you will hit the protruding wheel while pushing because the trucks are too wide.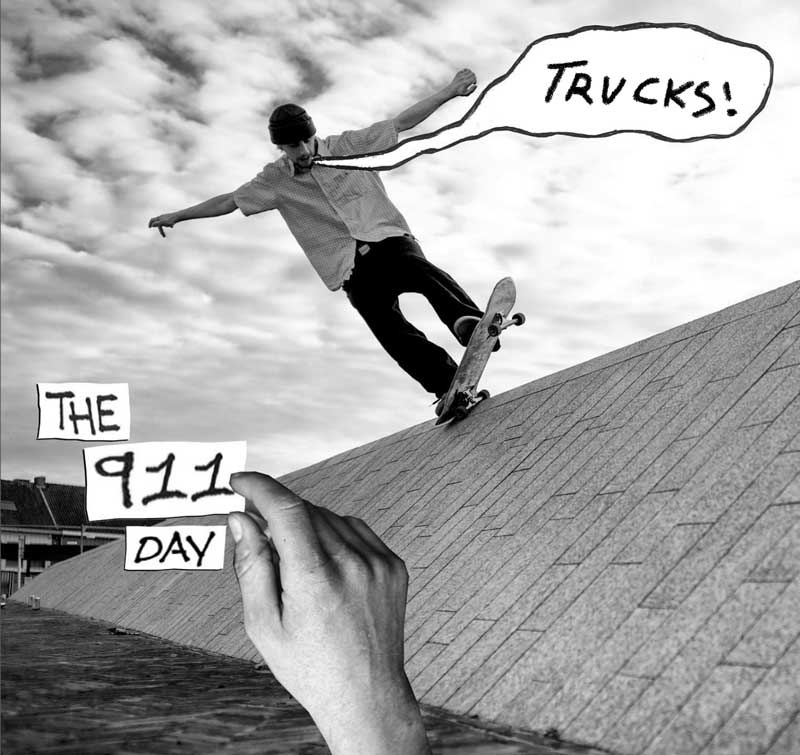 Skateboardtrucks
Next to bearings, skateboard trucks are the most technical components of a skateboard. All parts in a skateboard truck are necessary. Without all the parts in the truck, it would not function.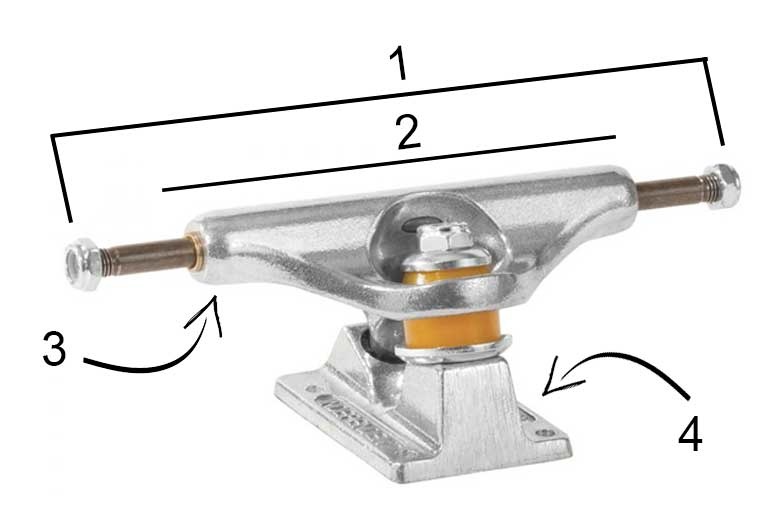 Axle width
Hanger width
Hanger
Baseplate
DIFFERENT TYPES OF TRUCKS
Standard trucks are often the cheapest and are already very high quality with the top brands. Light' and 'Hollow' trucks are a class higher and therefore lighter in weight. They are made lighter in strategic places They are made lighter in strategic places while maintaining their strength, so that it is easier to perform tricks. Titanium trucks are the highest class. They are very light and stronger than all other trucks. You pay a little more for them but they last longer.
Height of trucks - description and dimensions
Low trucks: 46 - 49 mm
Mid trucks: 50 - 53 mm
High trucks: 53,5 - 58mm
Low Trucks
With low trucks you can skate wheels up to 53 mm.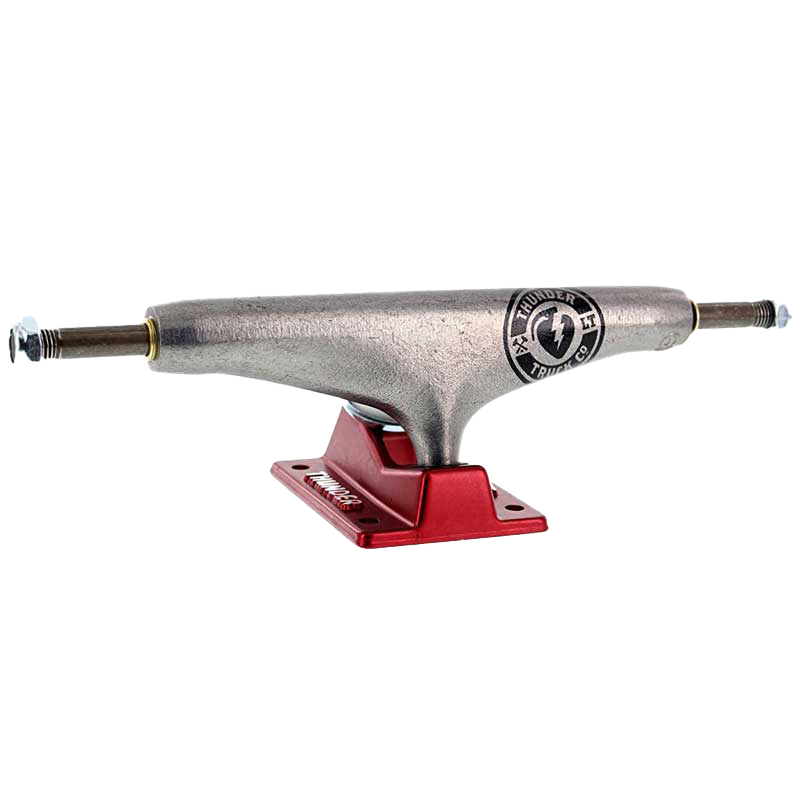 With low trucks, the deck is lower. It is mainly used for technical skating, this gives you a more stable ride.
Mid Trucks
Mid trucks allow you to skate medium-sized wheels up to 56 mm.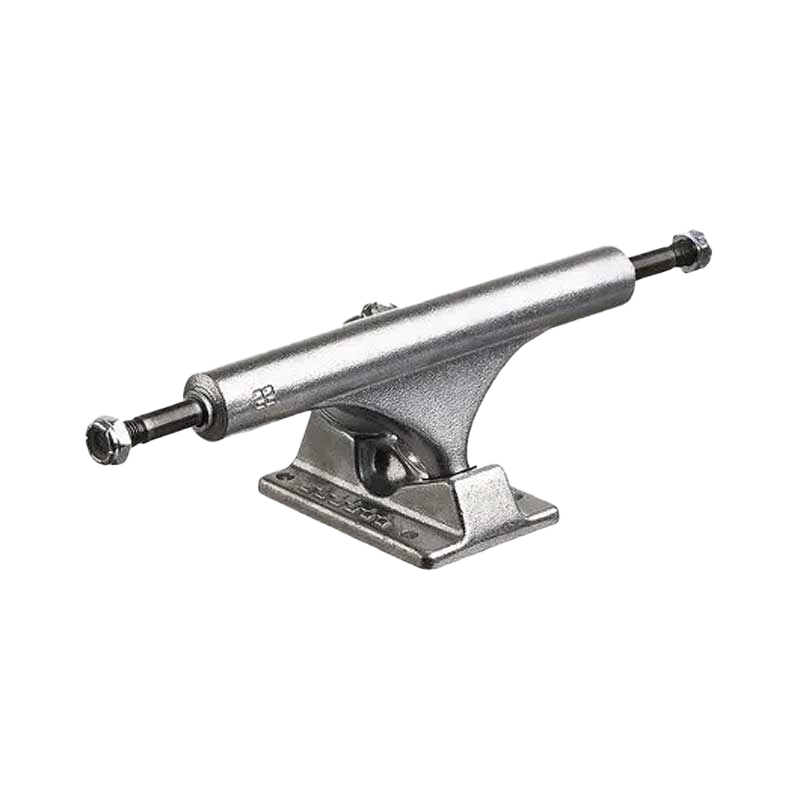 Mid skateboard trucks is an all-around skate truck. These trucks are between high and low trucks.
High Trucks
With high trucks, you can skate wheels up to 60 mm.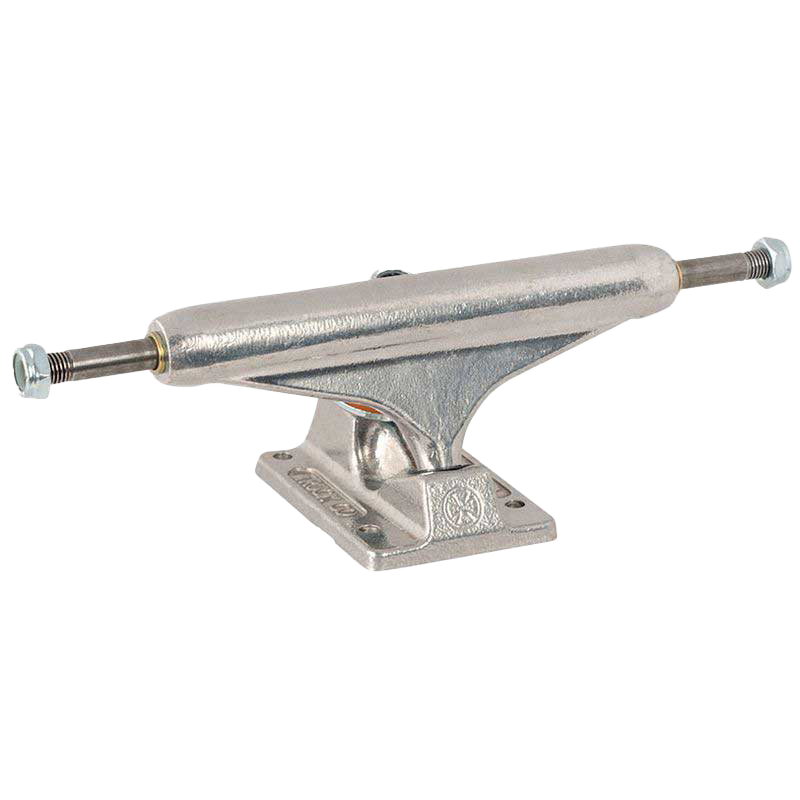 With high skateboard trucks, the distance between the deck and the ground is greater. Because you are higher off the ground from the ground, you can take wider turns and, at high speeds, high trucks can seem less stable.b seem.