Homeboy was founded in 1988 as the world's third streetwear brand. 30 years ago streetwear was still original and stood for skatewear. The origin of Homeboy lay in skating, but already with the foundation the hand was reached out towards music.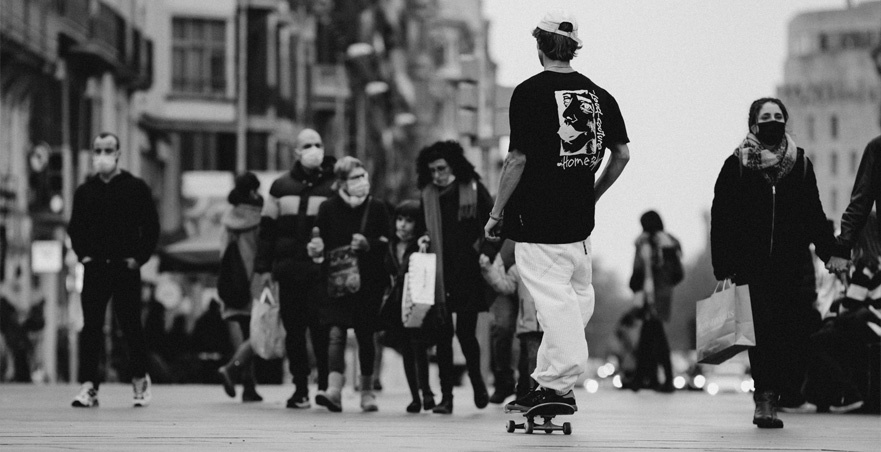 HOMEBOY - THE ORIGINAL BAGGY PANT COMPANY:
Under homeboy's guidance, many streetwear classics were created in the late 80s and in the 90s. In 1991 they shocked the fashion world with the first homeboy baggy pants. Baggy pants are the rising star of the streetwear scene and on their way to replace the skinny. The pants are updated and arrived in the present. The cut is tapered, the legs slightly rolled up. The vibe is held up.
Homeboy has played a big part since the beginning and that won't change in the future.
Things that changed the world:
Coach Jacket: In 1989 Homeboy was the first brand in the world to bring a nylon shirt jacket with its logo, called "Coach Jacket",  onto the street. This jacket brought the "Homeboy Loud Couture" logo hundreds of thousands of times into European cities. From Diesel to Nike they all followed later on.
Baggy Pants: 1991 was the year. Homeboy's "Baggy Pant" was introduced and shocked everyone. No one believed that these new "jeans" would triumph over the undisputed No. 1, the Levis 501. Hundreds of thousands of this homeboy article also shaped fashion in Europe's cities.
Coach Shirt Reversed: the "Coach Jacket" was a component of Homeboy and they developed from it a sweat shirt with press buttons, which they sewed " reversed " together and flocked with a large "Homeboy Loud Couture" logo. The "Coach Jacket" and the "Coach Shirt Reversed" are classics and are now back in the big nightclubs of the city.
Action sport: Skateboarding - Snowboarding - BMX - Surfing - Moto-X
Music: Wu-Tang Clan, Cypress Hill, Korn, Rage against the Machine, Mob Deep, M.O.P., Tic Tac Toe, Die Fantastischen Vier, Moses Pelham, Crazy Town and much more....
Streetart: Homeboy worked together with artists like Jeff Soto, Dave Kinsey, Adam Pommier or Ben Tour and Caia Koopman, which paved the way for streetart into streetwear very early on.